When it comes to the daily Indian cuisine, from the early morning breakfast of hot idlis to tamatar rasam to chapattis with Alu methi subzi, the one common household implement that you would use for all of them would be the ubiquitous mixer.
It is hard to imagine a time without one; things have changed for the better ever since the advent of mixer grinders to the Indian durable consumer market and ever since the introduction of the first mixer grinder.
Preethi is a reputable brand where mixer grinders are concerned and have notched itself a stellar reputation for producing top of the line mixer grinders, customized for the regular Indian household. They have carved a niche for themselves, in this market, ever since they came out with the first mixer machine way back in 1978.
They also happen to be the innovators in the sense that they were the ones to first come out with the 3 jar mixer grinders, extractors and much more. They launched their first store in 2002 and got their ISO accreditation in 2007.
Today, they offer a wide range of kitchen appliances, from dry grinders, wet grinders, mixer grinders, auto cookers, warmers, induction stove and the list goes on. Today, they have expanded from mixer grinders into other kitchen appliances, to the point that you can purchase any kitchen appliances you need, in their store.
They have earned a reputation for developing innovatively designed and highly durable products, which function seamlessly to provide you with what you require. Do read on to learn why a Preethi mixer grinder is essential today.
Best Preethi Mixer Grinder
1. Preethi Zodiac MG 218 750 W Mixer Grinder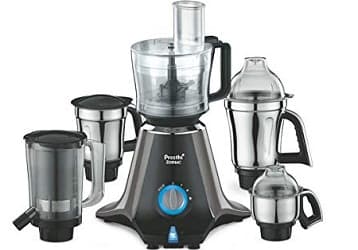 This Preethi Mixer grinder certainly comes with a compact, and yet elegant design. It certainly features a minimalistic look, with its exteriors in black. You can also opt for other shades as well and as far as this mixer grinder goes, it comes with all the required functionality that you need and more.
For starters, the Preethi zodiac has already managed to gain a reputation as being one of the best, in the industry especially when it comes to mixers and grinders.
What makes this mixer grinder interesting is the fact that it comes with 750 Watts and also happens to come with five separate jars, each topped with a poly carbonated dome. Furthermore, this mixer grinder comes with various blades, with which you can grate, grind, and liquefy anything.
Each jar is customized and you can use the same accordingly to grind dry powders, grind wet chutneys, and even use the largest jar as a juicer as well.
This compact model certainly packs in a lot of punch and is so powerful that it can grind turmeric in under two minutes. It is that fast and more. It is only to be expected that your mixer would make some noise as that is the norm and expected of any mixer grinder and as far as this product is concerned, the noise pollution should be well within 80DB.
You may also notice a slight burning smell as you operate your mixer grinder for the first time, that's on account of the metal varnish getting heated and should soon dissipate.
2. Preethi Blue Leaf Diamond 750 W Mixer Grinder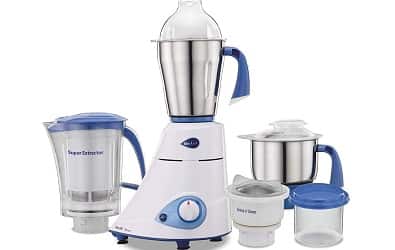 This mixer grinder certainly looks elegant in white and blue and comes packed with all the power and functionality that you are looking for in a mixer grinder. It is compact, and comes with a stainless steel body, along with the 750-watt motor and a shock-resistant body which is a plus. It also comes with rubber caps at the bottom thus making it anti-skid as well.
This mixer grinder comes with all the accessories that you would ever need – it comes with three jars, the main jar with a capacity of 1.7 liters while the other two, come with a capacity of 0.7 liters and the smallest one, is the chutney jar with a capacity of 0.5 liters.
Do note, that you can also use the main jar as a grinder with a capacity of 0.7 liters for wet grinding and a capacity of 0.5 liters for dry grinding. All the jars come with blades included, where the main jar comes with four angled blades, and the other two, with two blades per jar.
This mixer grinder is quite easy to operate and comes with multiple speed settings. It should also be pointed out the resulting noise from operating the mixer is not that loud, and moreover, you may want to operate the mixer only for a little while when you start using it until you become more familiar with it.
3. Preethi Steel Supreme MG-208 750-Watt Mixer Grinder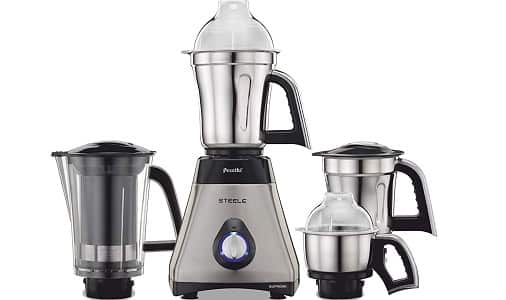 This Preethi mixer grinder certainly snags your attention right away, with its stainless steel body and beautiful finish that keeps it gleaming. It comes with a 750 Watt motor and also comes with four jars that include a juice extractor as well. What makes this mixer grinder stand out, apart from its core functionality is that it comes with a smudge-free stainless steel finish along with chrome-plated handles.
Yes, it comes with a stainless steel finish but it also comes with shockproof casing as well, so you need not have any concerns about operating this mixer grinder. It comes with 100% stainless steel jars, and that it is also anti skid proof, not to mention durable as well.
The different jars have all been custom-built for certain key functionalities and while the top three allow you to remove and change the blades, you cannot remove the blades on the smallest one without the help of a technician. Overall this is a good choice and one that is suited for any kitchen.
4. Preethi Xpro Duo MG 198 Mixer Grinder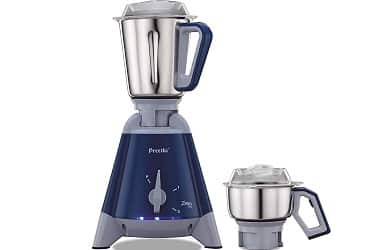 This Preethi mixer grinder certainly brings a whole different equation to your kitchen counter, with 1300W of power, along with a strong, durable and compact body. It certainly seems to come loaded with all the features and functionalities that you were looking for in a mixer grinder and more.
What's interesting about this Preethi mixer grinder is that all its stainless steel jars come with a three-point lock, allowing for both hands-frees as well as leak-proof operations. One of the handicaps of some of the other models was that you would often have to stick close by and hold a hand over the mixer grinder top to ensure it stays in place.
Well, you need not do so with the current variant. The largest jar comes with a 2L capacity and the smallest one, which incidentally is also the chutney jar comes with a capacity of 0.75L. It comes with a maximum RPM of 18000 cycles without any load and 10000 RPM with a load.
This mixer grinder would be a perfect addition for a large family and should help you cook your various masalas in no time at all.
5. Preethi Popular MG 142 750-Watt Mixer Grinder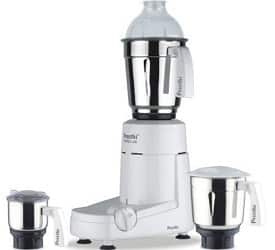 This Preethi mixer grinder also comes in an elegantly shaped design along with a 750 Watt motor as well as anti-skid vacuum feet, so you should be able to use this product with ease. This mixer comes with all the accessories you need including stainless steel jars which you can use for dry and wet grinding, as well as for making juices.
The stainless steel body also comes with the shock-resistant casing so you need not worry about getting electrocuted on handling the mixer. It is certainly compact and powerful enough; in fact, this product can powder turmeric for you in under two minutes or less. All the jars come with blades that can be removed, except for the smallest jar which comes with built-in blades.
When it comes to performance, this mixer grinder stands out for the right reasons and all the more reason that you should take a closer look at the same.
Final Words
These are some of the top-ranking mixer grinders currently available in the Indian market. Just go through the lot, review each description carefully and choose the one that seems to be a good fit for your current needs.