There are so many options between Waring commercial blenders, Hamilton Beach commercial blenders, Avamix commercial blenders, and other brands that choosing the right model for your business can be a chore. This guide breaks down the types of blenders along with the features to look for when buying a commercial blender. Whether you are looking for a robust commercial smoothie blender or a small handheld immersion blender, we'll help you consider your options and make an informed decision.
Types of Blenders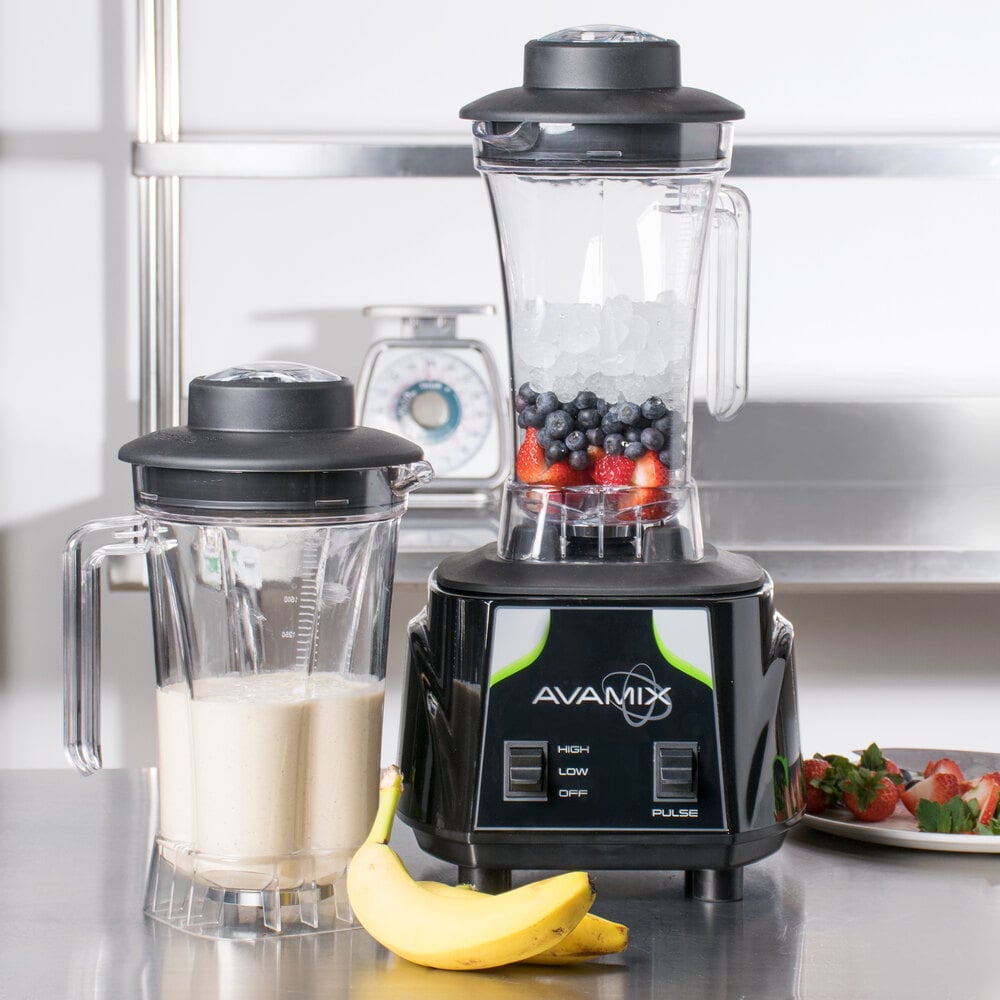 1. Food Blenders
These commercial blenders are designed for frequent use and can withstand continuous operation without burning out. They can blend thick drinks like smoothies or milkshakes and even break down hard foods like chocolate chips, carrots, almonds, or ice.
Choose a commercial food blender when you need a professional unit for a high-volume operation.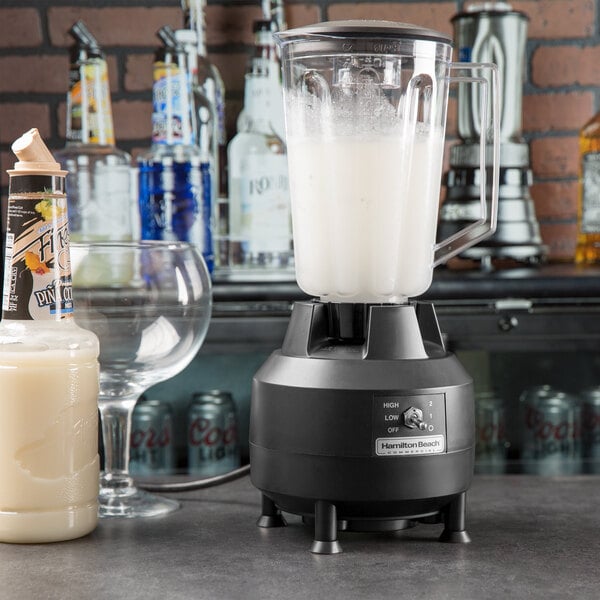 2. Bar Blenders
Ranging from lighter-duty models to high-volume units, bar blenders are perfect for making signature cocktails like margaritas, daiquiris, or piña coladas. While many aren't as robust as food blenders, most of our bar units can handle the occasional smoothie.
Many of these blenders have clear jars that promote product visibility and some even come with sound enclosures, a plus for operating in already loud bar environments.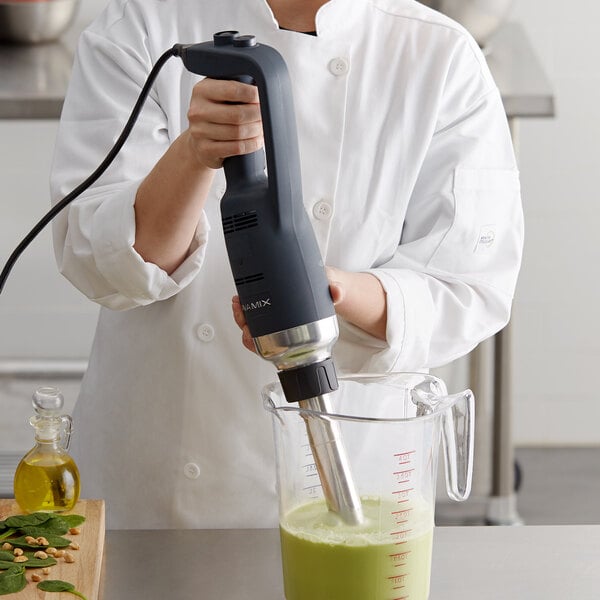 3. Immersion Blenders
Ranging in size from 7″ long all the way up to 29″ long, handheld blenders work well for chopping up soft foods, whipping cream, mashing potatoes, and pureeing soups or sauces. One of the greatest benefits of this type is that you aren't constrained by the capacity of a blender jar.
Choose a standard-duty, heavy-duty, or cordless immersion blender to meet the needs of your business. Many immersion blenders also work with optional attachments like emulsion disks and whisks for even greater versatility.
Application
The type of blender that you need depends heavily on the environment where it will be used. For instance, making smoothies all day will require a completely different blender than making only a few margaritas per night.
Also, some blenders have features like programmable controls or timers that make them more efficient for use in high-volume kitchens and bars. If you are going to be making the same recipe over and over, or you want to set the blender for a specific time and perform other tasks while it does its job, some of these features can make up for the higher price tag by saving you hours of time and labor.First off, consider the type of business you run. What foods will you use the blender for? Will you be using it to puree creamy soups, or will you be making tantalizing smoothies? Then, think about how often you'll be using the blender. Some blenders are designed for lighter-duty use and wouldn't last in an environment where they are used to make dozens of drinks every day.
Choosing the Right Jar
Material
Do you need polycarbonate or stainless steel? Copolyester or glass? Depending on how much your blender jars will be used and washed, one type of material may be better for your business than another. Stainless steel jars are durable, easy to clean, and great for foods of different temperatures but don't offer the transparency of other types. Polycarbonate is virtually unbreakable, so this type of jar works great in fast-paced environments but the material does contain BPA and so shouldn't be used for hot foods. Glass jars are great for showing off in display cooking or bar areas. Finally, copolyester jars are very durable and ideal for a wide variety of applications as they can stand up to different temperatures and acidic foods better than polycarbonate.There are a lot of different blenders out there with a lot of different types of blender jars. Some of the features may not be relevant to your business, but here are some you'll want to think about when purchasing a blender:
Capacity – If you will be making one serving at a time, a smaller 32 – 44 oz. capacity may be better and save you money on the purchase. If you need to prepare large amounts of blended foods at once you'll want to consider a larger jar. We offer models with jars up to 128 oz. in our bar blender lineup and units topping out at 832 oz. in the food blender category.
Handles – Did you know we offer blender jars without handles? Most of the larger blender jars will have handles for easy lifting and carrying but some of our smaller containers come without handles for easier washing, stacking, and storage.
Stackable – If your business needs several blenders (or several blender containers), consider buying stackable jars to save precious storage space.
Graduations – Many of the blenders we offer come marked with measurements so that you can measure in the jar itself. This will save time if you make the same recipes every day or multiple times each day and eliminate the need to wash additional measuring tools.
Go Jar-Less – If you need to process large amounts of soft or liquid foods at a time, your best option may be to do it without the jar, using a commercial immersion blender instead. Since there is no jar, there are fewer limits to how much food you can process at once.

Most blenders come with only one blender jar but you may need multiple containers to keep up with customer demand since jars need to be washed between uses. You can find a selection of additional blender jars with our other blender parts and accessories.
Power!
More power isn't always better. Once again, it all comes down to your application. If you will be making thick smoothies or milkshakes all day, you'll definitely need a unit with more power. But if all you need is a blender grinder to turn out a couple of margaritas every night you can save some money by going with a smaller, less powerful one.
Controls
There are several types of blender controls for you to choose from: electronic, programmable, and toggle or paddle controls. Each version has their own benefits and an application where they work best. For example, programmable controls are great timesavers for high-volume businesses that make blended foods and beverages from set recipes every day. The programming allows you to set blending parameters once and use them again and again as you repeatedly make the same recipes.
Noise
CleaningTo help keep the noise down in your establishment, you can choose a blender that has a sound enclosure. This feature is a polycarbonate shield that surrounds your blender during use to reduce the amount of noise produced by the unit. It may reduce the immediate accessibility of the jar and controls, but if noise is a problem for your business, choosing a unit with an enclosure may be your best choice in the long run.
At the end of the day, there are plenty of things you would rather be doing than cleaning your equipment for the next day. To make life easier on yourself, consider some of these features that are designed to make cleaning a blender easier and more efficient.
Removable jar pads: Some models have removable jar pads to catch spills or splatters so they don't accumulate on your blender's base. At the end of the day, you can just carry the jar pad to the sink rather than scrubbing your blender in place.
Removable blade assemblies: On many models, you can remove the blade assembly from the base of the blender jar for more thorough cleaning. This way, no food is left in the crevices of the jar and gaskets.
Removable shafts: On immersion blenders, you'll want to consider a dishwasher safe, removable shaft. This way, you won't need to worry about getting the blender's motor wet during washing. Plus, they eliminate the need to clean the area around the blades by hand.