Blenders are one of the most indispensable home appliances in modern days. Owning a blender can make the process of blending, grinding, and mixing fruits, spices, and other ingredients very easy.
In this post, we will be reviewing some of the best personal smoothie blenders available in India. If you are a fitness enthusiast who always drinks different types of shakes and nutritional smoothies, you will love a personal smoothie blender.
For readers like you who are looking for a personal smoothie blender in India, we have jotted this post down. In this post, you will get detailed reviews of the best smoothie blenders/grinders/mixers available in India.
Keep reading to know more…
Types of Blender?
You can categorize blenders into various categories. As a matter of fact, there are over 25 types of blenders available in terms of portability, size, function, and usability.
However, the most popular ones are Hand blender, Specialty Blender, Immersion Blender, Full-size Blender, Frozen Drink Blender, Heavy-duty Blender, and Personal Smoothie Blender, etc. All of these are different from one another.
For instance, if you are looking for a multifunctional blender for performing all types of blending/mixing/grinding tasks at your home, you can go for a full-size blender. However, when you need a portable blender, a full-size blender will not be a suitable option.
Top 10 Best Personal Smoothie Blenders in India
Now that you are familiar with different types of blenders let's proceed to the reviews of the best personal smoothie blenders in the next section.
1. Nutribullet PRO Smoothie Maker: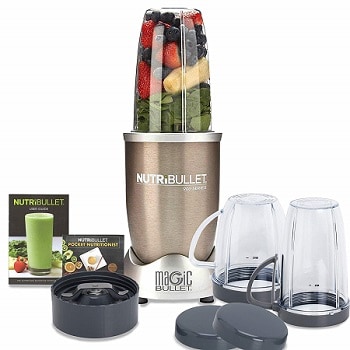 When it comes to smoothie makers, we all know Nutribullet. They are from the Capital Brands.
This brand is in the blender industry for over 20 years. As a result, they are known as one of the best brands in manufacturing blenders of different types.
This Nutribullet Pro Smoothie Maker comes with some impressive features.
First of all, you will get 3 cups in total. Simultaneously, there are one 709 ml tall cup and a couple of 532 ml short cups. Added to that, you will also get an emulsifying blade, 2 lids, 1 lip ring, and more.
This one comes in gold color and a compact, attractive design. The cups are designed in a way that you can drink from the cups directly. However, this is a pricy unit, to be honest.
So, if you don't have any issue with the high price tag, you can check this one out.
Main Features:
It has 2 years of manufacturer's warranty.
This one comes with a 900-watt motor.
It is washable and dishwasher safe.
This is a 12 piece set smoothie blender.
---
2. Nutri Ninja Blender: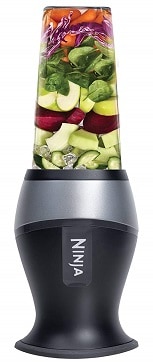 The second one on our list is the Nutri Ninja blender. This one has a very unique and slim design.
That way, it will not take much space while using this blender. It comes with cups that are manufactured from Tritan material.
So, there will be no issue of scratching or discoloration of the cups. As a matter of fact, these cups are stain and scratch-resistant.
This Ninja smoothie blender comes with 2 single-serve cups of 470 ml, 1 pro extractor blades, 2 spout lids, and more.
Even though this blender is manufactured outside of India, it is compatible with Indian electrical standards.
So, you can use it out of the box. The motor is mighty as it can attain a speed of up to 20,000 RPM.
Main Features:
The package is a set of 4 pieces.
Comes with 2 years of manufacturer's warranty
Needs 700 watt of power to operate
It comes with BPA free cups.
---
3. Wonderchef Nutri-Blend Mixer Grinder: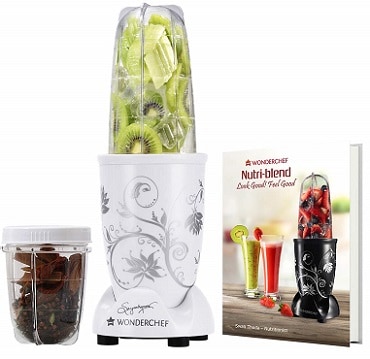 Wonderchef is one of the most popular brands in India. They have all types of home appliances and kitchenware in their collection.
But now, we will be talking about the Wonderchef Nutri-Blend blender. This one comes in 5 different colors. And, based upon the color you choose, the price will also vary.
The design of this smoothie maker is slim and attractive. It comes with 2 sets of blades for grinding and blending.
You will also find 2 jars, such as a short jar of 300 ml and a long jar of 500 ml. There are no buttons on this.
So, you can operate the blender with the quick-push start function. As a result, even a beginner would be able to use it.
Main Features:
The blade can rotate up to 20000 RPM.
It has 2 years of warranty
comes with a 400-watt motor
The building material is fiber plastic.
---
4. La' Forte La Vite Cherie Blender: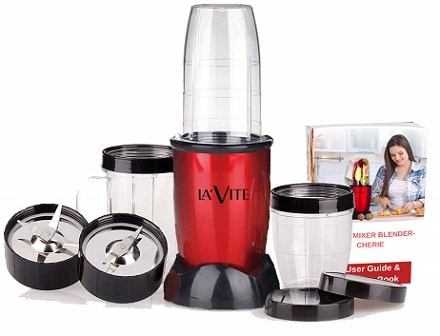 If you are looking for a budget-friendly yet powerful smoothie blender in India, you can try this one.
This is from the famous La'Forte. This is also another compact and features a rich blender. You can use it for all types of tasks such as blending, mixing, and grinding.
You are getting one 500 ml mug jar with this unit, one 300 ml small jar, and another long jar of 500 ml.
There are also 3 lids included with this smoothie blender. It is straightforward to use, as there are no buttons. You will need to connect and twist to operate this blender.
Main Features:
Comes with a 1-year warranty
This is a set of 10 pieces.
It needs 380 Watts of power to operate.
This has 100% BPA free jars.
---
5. Balzano Bullet High-Speed Blender: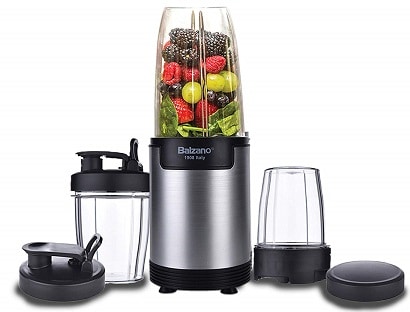 Balzano is a well-known brand in the home appliances industry. It is an Italian brand established back in 1908.
They have their own production facility in China, Japan, and Italy. At the same time, they are bringing their service to various other countries, including India.
As a result, you can now get their persona smoothie blenders in India as well.
This particular smoothie blender is one of the best when it comes to the price to performance ratio. It comes with 3 cups of 800 ml, 500 ml, and 350 ml. additionally, it has 2 different blades for blending and grinding.
So, also, to make smoothies, you can also use it to grind spices.
Main Features:
It is a blender set of 10 pieces.
Needs 900 watts of power
Comes with a 1-year warranty
This has BPA free cups
Conclusion
So these are the best blenders for making a smoothie in India. I hope you got some information from here and it helps you select a suitable blender for yourself.